loonilicious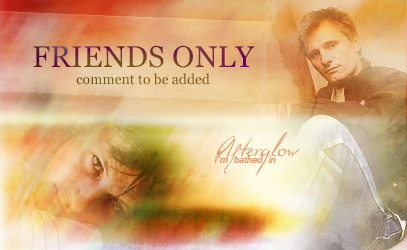 My entries are usually fandom related with lots of insane fangirl moments.
No politics or news or any of the sort in this LJ usually, not that I don't follow any of it or don't have an opinion about it but I want this LJ to be for fun mainly.
There's plenty of unfun things going on 'outside' already. I want this to be a place where I can go to get away from RL for a while and be an insane fangirl.
Doesn't mean I don't talk about my RL at all. I do, as this LJ is a good place to vent for me, too.
My fave tv shows/ films
- Supernatural (incl. Wincest & J2)
- Stargate SG1 & Atlantis
- Heroes
- House
- NCIS (Tony !)
- Nip/Tuck
- Dr.Who
- Torchwood
- Prison Break (not a Wenty nut though I just like the show)
- LOTR
- Harry Potter
- Smallville
- Gossip Girl
- Brothers & Sisters
- Swingtown
I read slash. I don't care if you're not into that, but if you have a problem with me mentioning it from time to time then you better stay away from here.
Also if you don't like Viggo Mortensen this journal might not be a place you want to be visiting, I
love
admire the man and pretty much all that he does and there's frequent mention of him around here as well as the ocassional pictures.
My Friending Policy
*drumroll*
No use friending me when:
- you use teen speak or don't use punctuation; I hate that and it will result in me not reading any of your entries.
- you never update or only once a month or so or only post quizzes and such.
I usually update a few times a week, it's only fair I get something in return.
- Never ever bother commenting. I really don't expect you to comment on each and every entry I make but a comment once in a while would be nice.
- Try to tell me what I should and shouldn't post. This is my journal so therefore I post what I want. You're free to disagree with anything I do or say but I refuse to change anything because anyone else thinks I should. Can't handle that ? Then leave.
Also, I don't automatically friend back. I'm not an elitist or anything, I just like to be able to keep track of my Flist and I just can't do that with too many friends.
As far as defriending goes. You're free to defriend me at any time. I don't need any explanation. Yep I'm easy like that :p
Please leave a comment if you'd like me to friend you back !
Also, it would really help if you tell me why you'd like me to friend you :)
Ps. If you add me without leaving a comment or having talked to me before, you can be 99,99% sure I won't be friending you back.
**If you're here for just the pictures please join

loonspix
**